Welcome to the Lake District, a gate to Patagonia...


The Lake District is a region of southern Chile covered with a dense forest, deep lakes, and white-topped volcanoes. It extends for about 350km between two major cities, Temuco in the north and Puerto Montt in the south. Spindly Araucaria trees mark the northern limits of the region, while a thick Selva Valdivia (rain forest) extends through the coastal borders meeting with the Pacific ocean. On its southern frontier, two-thousand-year-old Alerce trees govern the landscape. Visitors have been coming to this region for over a hundred years and nowadays, it is still one of the top destinations in Chile.
According to the Lonely Planet;
"Once a summer playground for the rich, Pucón is now a year-round adventure machine catering to all incomes, especially in February (a time to avoid, if possible), when it is absolutely overrun. The town receives alternating floods of package tourists, Santiago holidaymakers, novice Brazilian snowboarders, adventure-seeking backpackers, new age spiritualists and mellowed-out ex-activists turned eco-pioneers."
While the city of Temuco can be used as transportation hub, the authentic beauty of the region's lies on its many national parks and its adventure sports capital Pucón, where the options go from hiking, volcano-climbing and horseriding to rafting, kayaking, sailing and canyoning. In the winter, skiing down volcanoes and soaking in the many thermal springs are the preferred visitor's activities.
The Siete Lagos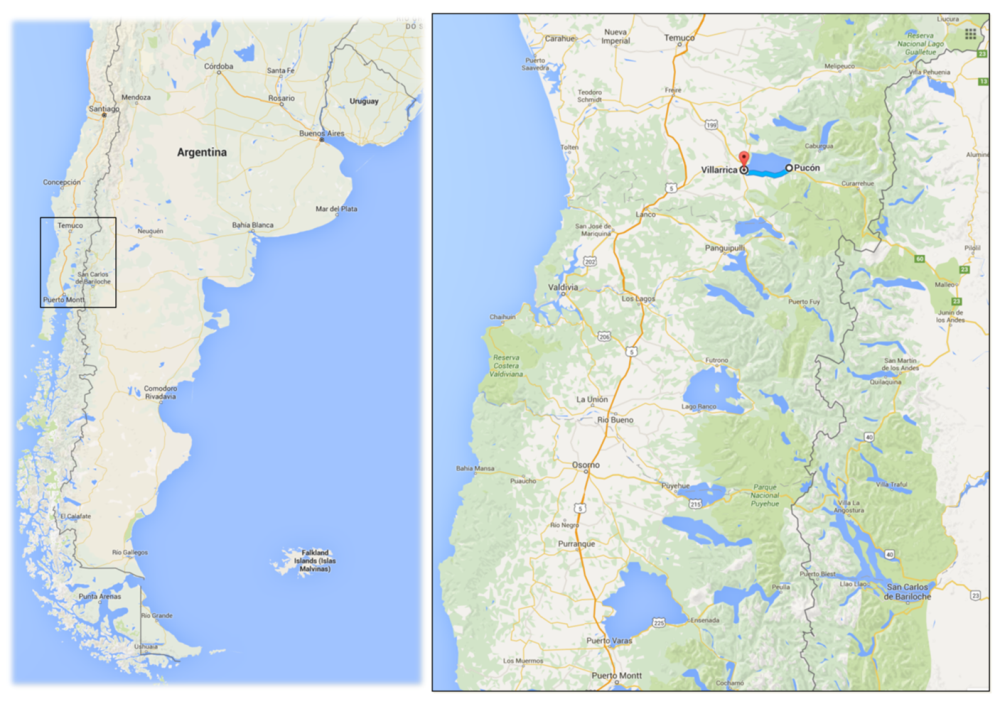 The region known as Siete Lagos (Seven Lakes) starts at the Villarrica lake (on whose shores the towns of Villarrica and Pucón are found) and continues to the south. Six of the lakes are in Chile and one in Argentina (Lácar lake). All of them are connected by rivers in one hydrological system, with picturesque villages along their shores.
One of largest ones is Calafquén lake, about 30km south of Villarrica along a winding road. Panguipulli lake is 17km further on. Next, the slightly smaller Riñihue lake is found, hardly visited and thus perfect for nature lovers. To the east, in the pre-cordillera, surrounded by 2000m peaks, are the most remote Neltume and Pirihueico lakes, which became accessible by road only around 30-years ago and have maintained their pristine and untouched natural beauty.